Compare commercial solar PPA costs

Build your energy strategy, compare solar PPA costs, and find the best solar combination for your business, reducing energy costs in the short, medium, and long term to 5 p/kWh - 10 p/kWh.
This can be achieved through the use of zero indexed PPAs. These can be through self-financing with O&M contracts, or zero indexation PPAs with fixed interest rates.
Commercial solar cost comparison for the UK
MaxGen helps businesses make informed decisions as to what rooftop solar, carport / canopy solar, and the field scale solar should cost , the benefits, and some of the parameters.

These are some useful facts for commercial solar costs for businesses - self financing, or zero index PPAs with fixed interest rates.


Field scale solar costs from 4 p/kWh
Commercial rooftop solar costs from 5 p/kWh
Commercial canopy / carport solar costs from 8 p/kWh
If the business finances it themselves, then there is no annual indexation as with a PPA - these are the repayment capex costs for the next 20 years if the business uses all of the generation! The O&M will rise very slightly.

There is also zero indexation financing. These deals are from 7 - 15 years at 8% fixed interest.

Useful facts for solar generation in the UK:
1 kW of solar in the UK produces about 900 kWs per year
1 kW of solar produces 1 - 2 kWs per day in winter
1 kW of solar produces 4 - 5 kWs per day in summer
1 MW of field scale solar needs about four acres of land

With no moving parts, solar is a low cost method of generating renewable energy over the long term. Commercial roof top solar starts at about 5 p/kWh, and so can dramatically help to reduce energy costs, if done at scale.

Solar, by its very nature is cheap, however limited to a few hours of generation every day, especially in winter. As with all renewables, ideally it should be just one part of the overall mix of alternative renewable generation, possibly battery storage (if there are high value differentials), as well as the grid.



Commercial rooftop solar costs
Roofs are a valuable resource for solar. Rooftop solar for commercial building is about £700 per kW for a 2 MWp system.
With a 20 year payback working out at 5 p/kWh.

Thing to look out for - The roof needs to be in good condition, and if leased, the landlord needs to provide permission.
Commercial carport / canopy solar costs
Carport / canopy solar is the most expensive, however with EV charging, there is a premium for onsite renewable generation. The cost is approximately £1,400 per kW for a 40 kWp system working out about 8 p/kWh on a 20 year payback.

Things to look out for - carport solar can restrict future development of the carpark.


Field scale solar costs
Any field or brown field land near to any large electrical load / off-taker is ideal for a field scale solar park. The costs are about £600 per kW at the 4 MWp scale, producing a cost of 5 p/kWh on a 20 year payback.

Things to look out for - there needs to be suitable land relatively close, as the distance of cable run is expensive.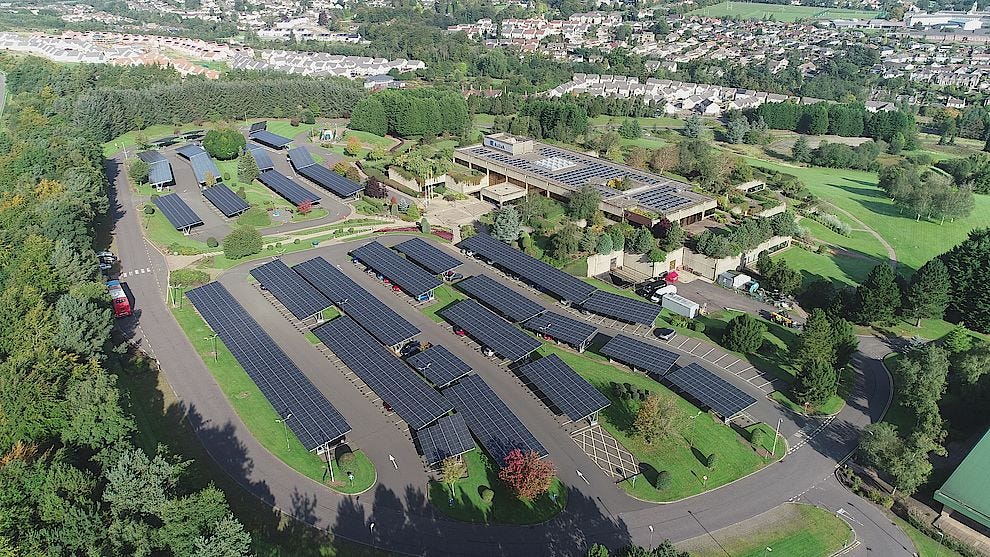 Commercial carport / canopy solar with battery storage delivering renewable EV charging, resilience and grid services to the business.